One bag is obviously not enough!
She works in law – so during the day you can find her very disciplined and rather strict, but in real life we have a happy and sincere person who finds time to travel, take her child to craft workshops and make leather shoes for porcelain dolls – here she comes, pump-a-rum! - I give you the full-of-joy-and-laughter Katrin.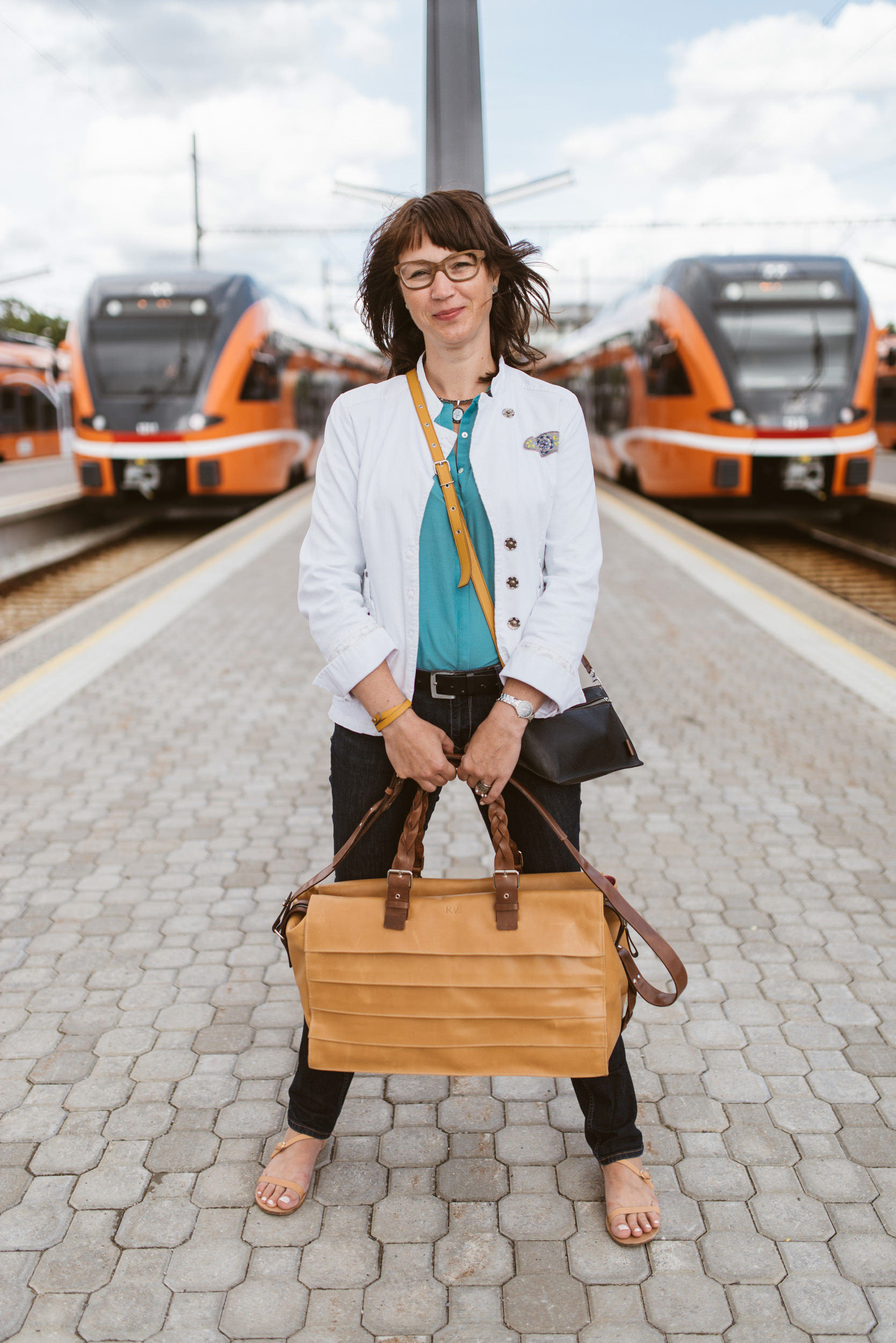 I met Katrin a few years ago when she wrote me with the wish to place an order for a set of bags – a big one for weekend travels and a smaller one for everyday gadgets. We found a suitable everyday bag from the existing models but the bigger one we started from scratch.
To house Katrin's whole life, we made a bag that has a huge mouth and can swallow a ton of things but is still small enough to satisfy the common airline restrictions. It has a set of gills that makes the bag breathe when it moves and also hides a secret pocket that gives even more volume to the bag-creature.
Katrin loves simple lines in her life but yet there is always room for some quirky little nuances and so we added a few braids to give that soft and twisty feminine touch. Colour-wise traditional and calm from the outside but surprisingly pink inside – you know you have to dig deeper for that real zing.

Today Katrin is one of my gold clients. A year after taking part in countless workshops she placed yet another order for some new summery accessories. This time we made a small and compact wallet and a big bright bag whose straps can be easily turned and used as white or orange.

The tote came with a little white bag that can act as a pocket for the bigger fellow or serve as an individual clutch. As a pocket it perfects the big bag into a true organizer: every key and gadget has its own place in this mini bag-world. Similar to its last year sibling this bag also reveals its true nature only when you take a glance inside – the white exterior caresses a bright happy sun in its heart.

Working with Katrin has been fun and sincere and as if that was not enough already, she has also brought many golden people with her! And last but not least I also got a nickname from her - "Bag Lady" – as this was the very thing Katrin's younger daughter joyously shouted out when she saw me on TV, "Look, it's the bag lady!" :)
The photos taken in the homes of trains and ships are took by
Tõnu Tunnel
.