Mother, my dearest...
My mother is definitely a Mother with a capital letter – affectionate and attentive, smart and talented, loving and lovable. I have never known my Mother to be embarrassing or annoyingly overbearing. She has been one of my best friends as long as I can remember.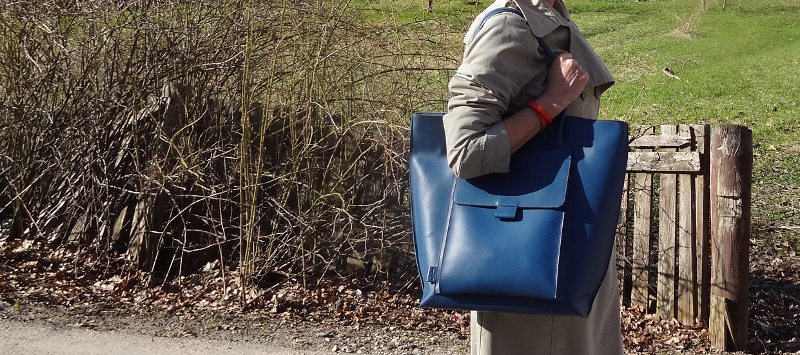 I would definitely not be a leather designer who is trying to develop her own brand if it wasn't for the support system she offered – the encouraging words when fear was taking over, the comforting hugs when things were not going as planned and the valuable glimpse from the outside when I couldn't quite grasp the situation.
I think that my Mother has influenced my creative handwriting more than either of us have ever realised. My mother's love for minimalism has rubbed off on me and her preferences are expressed in the bag which I made for her this spring.

My Mother who is my gold customer didn't want any metal or frills and ruffles – she dreamt of a bag without lining and exterior décor. Her everyday shoulder bag stuns with its combination of colour and simple form. Even though there were times when my Mother was on the fence about using blue leather, it can now be said that the colour has definitely justified itself.

My Mother and her deep sea blue bag look equally dignified on blue November Monday mornings when you have to use your innermost willpower to keep your head up, summery Saturdays filled with colours and sunrays when the road takes her to the cottage to pick some berries and fresh spring Fridays when she enjoys a relaxing glass of white wine in the inviting outdoor cafes in Tartu.
My mother has worn the bag every day since she got it. There's no greater honour than being able to give back to someone who has given you so much – even if it is just a speckle of dust compared to all the years of unwavering well-wishing and unlimited support.
Have a great and heart-warming Mother's Day, dearest Mother(s)!