Something to brighten up your day
Today is Mari's birthday. A few years ago, Mrs Kõiv received a bag designed by me as a birthday present from her family. The bag hasn't left her side ever since, accompanying her during both trips to the theatre and the training studio, regardless of whether she is wearing an evening gown or leggings.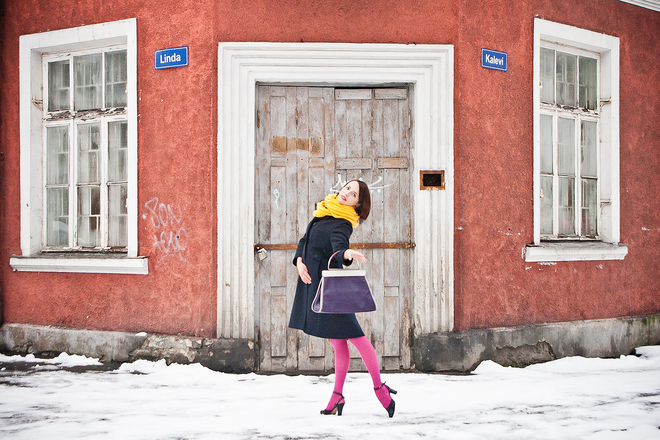 Mari is a sister I never had. In my closest circles, we use the term "support family" because it often happens that when someone's child moves to another town, it is good to have a safe place where to hide from the troubles of the world. Thus, Mari had the warm abode of my family home waiting for her in Tartu when she started working in theatre Vanemuine and I have always had a second home in Kalamaja when problems need to be analysed or joy can't wait to be shared.
Mari probably has flaws like all other people but I've never seen any of them. She has been a kind of mother figure for me, because she has always been wiser and more experienced. She has been there for me with her valuable insight of a bystander and warm heart accompanied by just the right amount of constructive criticism and sense of justice. As I have known Mari since I was a baby, designing a bag for her was a breeze, especially as Mari's husband and my dear support mother also pitched in. Margit directed me towards drawing inspiration from the 60s, my own subconscious engaged in a dialogue with Mari's ballet background, Martin came up with the colours and voila – we had a bag! Mari loves it.

Mrs Kõiv is a very busy lady. In addition to giving ballet and Pilates lessons in her own studio Tasapisitasakaal, she also has to transport the children to the kindergarten and back and take care of the household. Thus, her everyday life differs a lot from the days when she was dazzling on the stage as a prima ballerina but she shines as brightly in leggings and trainers which is why the glamorous bag never seems out of place. Nothing can dull the shine of a star! Her smile is all it takes because her posture is majestic and her eyes are always sparkling. She occasionally amuses her friends with spontaneously mischievous performances, doing an arabesque on the street or placing her leg on the roof of a random car. And last but not least, I cannot but mention her laughter which lights up even the gloomiest of situations.
The former ballerina and today's birthday girl was captured on photographs by Toomas Thetloff and the beautiful face of her was made even more beautiful by Kristi Suits.