Joy shared is joy doubled
A chance meeting at a mutual friend's birthday party almost never happened. Had I left half an hour earlier (as planned) on that wintry day, then I would not have been in the same place at the same time with Toomas. Nor would I be introducing our new accessory brand RÜÜ to you today, a project that we have been collaborating on for the last two and a half years.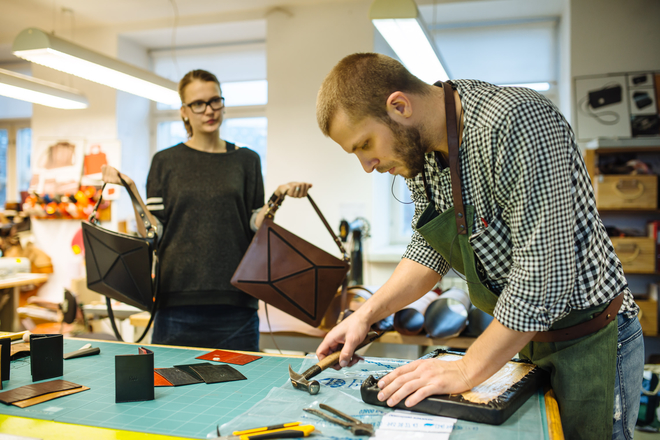 Toomas likes to amuse himself with social experiments and games at parties. The aforementioned birthday party was no exception and I, of course, fell for them. Many hours of discussion followed, running into the night and early morning, but the driving force soon took a more constructive turn. We began exchanging ideas about invention and entrepreneurialship - a creative bond was beginning to form. Soon after, Toomas was in my studio wishing to order a protective cover for his valuable work tool: a MacBook Pro. His enthusiasm as a creator is unstoppable and soon we were both engaged not only in the design process but also the bag's construction. The journey was not without its difficulties, however, the outcome was twofold: a product that filled the brief and a collaborative partnership that was to go on to design a brand.
Social experiments are not where Toomas's inventiveness ends, his creativity is played out in the real world too and you only need to mention mock-ups and prototyping before you notice a sparkle in his eyes and instantly become his new best friend. He is a tinkerer, which melded with his perfectionist tendencies makes him particularly thorough. He is always ready to sacrifice sleep and nerves for a better result, though he never acts out. Even if rulers and other blunt objects start flying from my side of the desk, he is quick enough to duck, but does not retaliate!
My own creative journey has been led by a passion for preserving and enhancing the natural beauty of leather and other natural materials. Exploring the technical possibilities of design so that the inherent aesthetics and the very tactile properties of the materials are able to speak for themselves. I have been fortunate enough to realise many of my ideas and dreams through leatherwork, but working with Toomas's technical mind and prior experience in construction has allowed us to develop a concept which showcases those natural properties even further. RÜÜ inspires me to aim for even greater simplicity and minimalistic design.

Our work together has required many sleepless nights, where ideas, discussions and prototypes are considered alongside a lot of blood (from occasional awl jabs), sweat and and a few tears, not to mention the blisters and some really stupid jokes. It's been fun, inspiring and at times frustrating, but our willpower and stubbornness to succeed has taken Toomas from apprentice to master of leather craft and has made me feel much more at home with technical gadgets and appliances. The result of all this is: RÜÜ. Derived from the Estonian word meaning: protective outer garment or armour, RÜÜ solves your issues of portability and protection of valuables in a beautiful, simple form.

Neither Toomas nor I would ever have predicted that a random dialogue would develop into an accessory brand in a few years' time. Despite that, we have sold pieces in Singapore, London and at home in Estonia, all without marketing the brand. Our work was also recognised by the 'Design-A-Bag' international competition in Hong Kong. So the amount of energy spent on the project is finally starting to pay off. Sleepless nights don't feel so hard anymore and how could they when the process has been so fascinating!

RÜÜ (pronounced 'rue') is something that protects and is beautiful. It is an armour, a protective layer between the internal and external world. If you feel like the 'armour' Toomas and I have designed is of your liking, then more information can be found on our
homepage
and
Facebook
.
The photos to illustrate the story of RÜÜ were taken by
Tõnu Tunnel
.